Company
To discuss installing 'Safe Hands at Dunns' dispense sanitisation solutions in your business or venue:
Call: 01698 727723
Get in touch: On our website Contact Form or email us safehands@dunnsfoodanddrinks.co.uk

Safe Hands at Dunns are offering a bespoke solution for your business, bringing an extra level of safety to your premises with hand sanitising stations that are conveniently designed for all business requirements. Built to last in a lightweight and space saving design, meaning you can keep your business safe without worrying about using up limited space.
BENEFITS
Highly visible hygiene statement
One dispense unit can service several fonts
1000 doses of sanitiser per ltr
Save staff on changeovers
Low maintanence
Fitted and serviced by our experienced engineers
Non invasive install
Add your own logo and enhance your brand
No significant capital outlay
FEATURES
Floor Standing, self contained station for all entry points
Wall/bar mounted fonts for all key positions within your venue
10ltr bag in box sanitiser - safely stored but easily accessible
Dimensions - 

 H 

1840mm x W 650mm x D 650mm

Made In Scotland
70% alcohol
COSTS
FREE set-up and equipment available. Based on a minimum annual purchase of sanitiser liquid.

Standalone Sanitiser Stations
Get a Standalone Station FREE! Based on a minimum purchase of 12 x 10L Dunns sanitiser bag-in-box per year (ie 1 bag per month).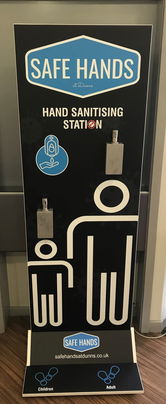 Bar / Wall Mounted Bag-In-Box Dispensers
Get 5 'hands free' bag-in-box connected dispensers FREE* and installed at points of your choosing OR 5 FREE self-contained (refill as you go) dispensers mounted where you want them. Based on a minimum purchase of 12 x 10L / 24 x 5L Dunns sanitiser bag-in-box per year (ie 10L per month).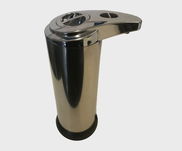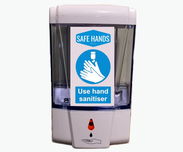 Sanitiser
Available in 10L Bag-in-Box (10,000 doses) or for more modest footfall our handy 5L bottles may be preferable (dispenser pumps can be purchased). £6.50 per Litre.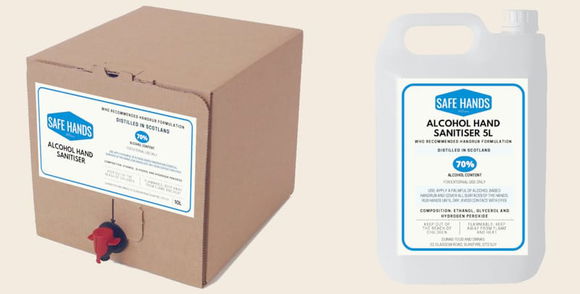 To discuss installing 'Safe Hands at Dunns' dispense sanitisation solutions in your business or venue:
Call: 01698 727723
Get in touch: On our website Contact Form or email us safehands@dunnsfoodanddrinks.co.uk
For more information please visit:
https://www.safehandsatdunns.co.uk/